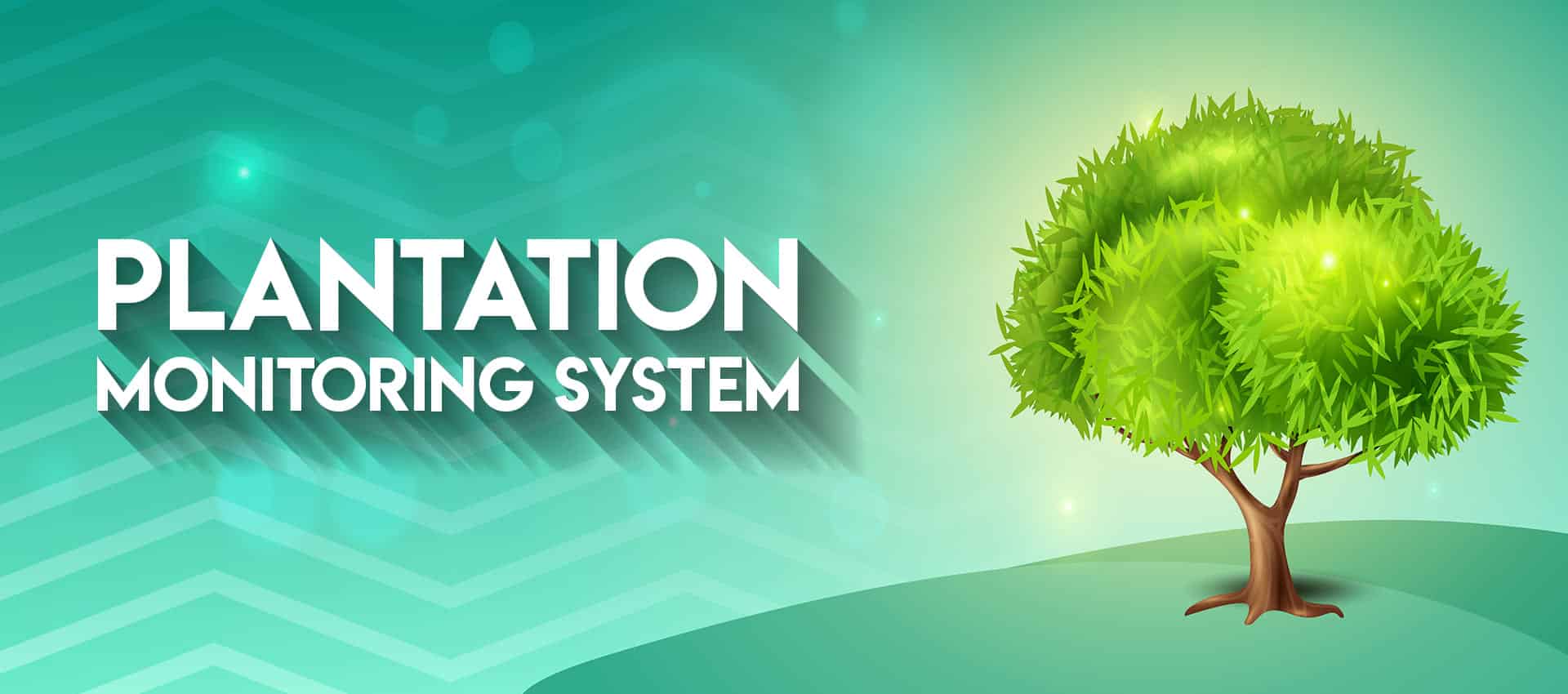 GIS Based Plantation Monitoring System
Monitoring Planation is much more important than just Planting them.
CRM is the need of every organization, from small scale to large scale industries. Many products are available for CRM, SugarCRM is one of the free and open source systems. Being free and open source is the reason that SugarCRM is the best solution for small scale industries.
Deploying CRM requires detail knowledge of required technology, core technologies required to deploy CRM are Apache, MySQL, and PHP. Techaroha team has especially professional's for each of the technology which helps for smooth deployment and thereafter supports.Techaroha team helps the small and medium scale industry to install and deploy SugarCRM on their server.
Techaroha team helps the small and medium scale industry to install and deploy SugarCRM on their server.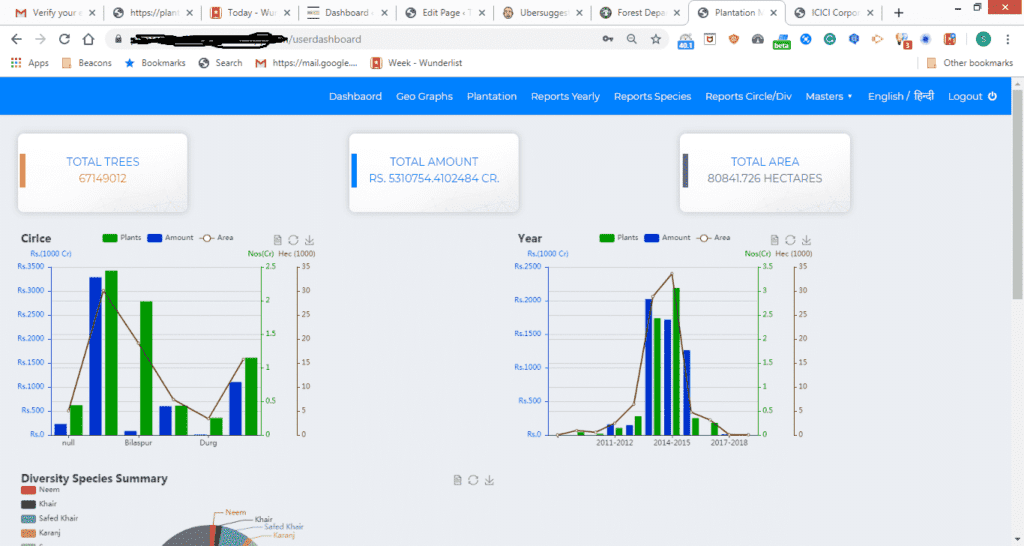 If you want Planation Monitoring System for Your Organization , NGO or Agency Please contact us over here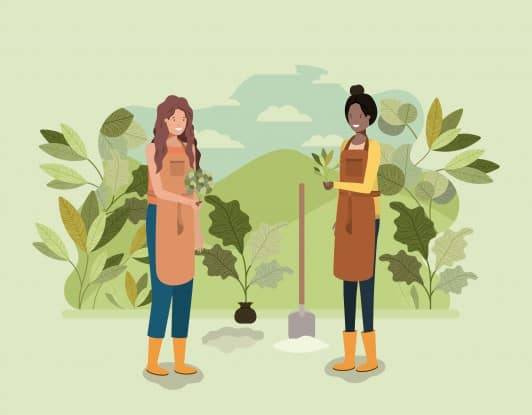 With the growing concerns of Environment and increase in the Level Greenhouse Gases many Governments, Private organizations and NGOs are focusing Plantation.

Plantation seems to be a only way to save the environment. Heavy plantation will not only will help to save the environment but it will act as an biggest asset in the coming years.

The output of trees is known to every only stem, leaves, fruits, trunks are good and form an important part in the lives of Human Being. It's pretty clear that Planation is a win-win situation for the Current Generation and Coming Generation.

The plantation can be considered as one of the Best Investments for the future of Planet Earth.

Though people are doing the planation , it's result are not as per execpectation. This is becuase Organziation doing the planation don'thave effective tool to manage the Plantation
Lets see how we can manage Planation with PMS using GIS
Need of GIS Plantation Monitoring System
Plantation Monitoring System is required because it's a very long term process , the scale of Plantation is very high and lot of money is involve over there.
Just like any other business when scale is high and investment is high, Plantation also requires a Plantation Management/Monitoring System to manage it Effectively.
Different aspect of Plantation Management System(PMS) includes Planting the Seeds , Planting the Trees , Planning the Plantation.Maintain the Budget and Cost .
Categorizing the Geographical Area based on Classification like Circle and Division , Regular Inspection of Plantation with the help of Photos or maybe drones is the other requirement of
Plantation Management.  Monitoring plantation with GIS and software like Google Earth with the help of KML Files or GIS Software Bhuvan From ISRO Helsps to monitor planation easily without involving transportation cost. This could be a huge saving since planation area are genrally in remote places.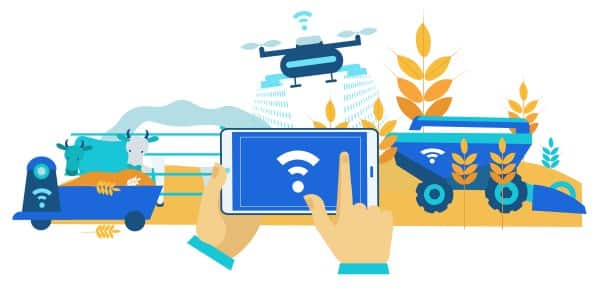 Plantation Monitoring/Management System By Techaroha
Planation Monitoring System designed and developed by Techaroha Team takes cares of the different requirement of NGO's, Governments and Companies doing plantation as a part of CSR
Plantation Monitoring System (PMS) with the help of GIS(Geographical Information System) take cares of Planation from Planning, Budget Allocation, Monitoring and then to Rewards to.
Its main aim is to make plantation more skilled and efficient.
PMS is a GIS and MIS (Reports) applications made to monitor plantation done across the state or the country. It helps to maintain records of all plantation done under any of the government schemes bring more transparency.
PMS maintains the count and species of plantation being done, which helps to maintain the diversity in the environment.
Plantation Monitoring System maintains the track records of KML being generated which can be opened in any of the GIS applications like Google Earth. Google Earth-like software will in turn help to track the progress of plants.
PMS keeps tracks of the inspection being done at Plantation Site by Designation Authority to sort out success and failed plantation.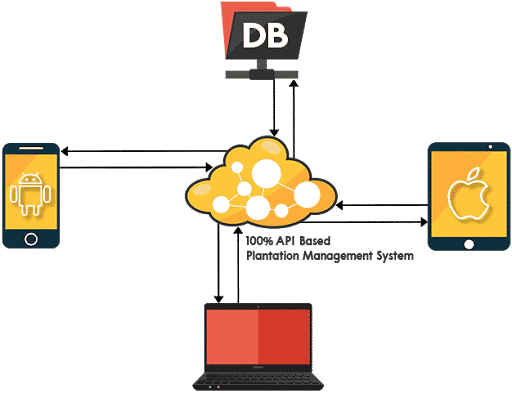 Function Architect of PMS by Techaroha
Plantation Monitoring System Provided by Techaroha uses the latest technology of API , enabling seamless integration with any other System.Public and Private API can be release as per the requirement.
Possibilities are many, Techaroha Team can help you to solve any of the above problems with experts consultancy and development team to ensure the timely delivery of the Project within the planned budget.
Main Features of Plantation Monitoring System by Techaroha
Major Modules in Plantation Monitoring System includes
Plantation entries with Circle/Division/Range , Amount and Quantity with Special Details.
Master of Circles/Division/Ranges , Species and Schemes.
Dashboard for Admin and Users.
Plantation Inspection Management.
Failed Plantation Management.
KML's Uploads and Downloads.
Photo Upload and Viewer.
Video Upload and Viewer.
Role access is the integral part of any Monitoring and Management System.
In Plantation Management System role and access can be given to view or edit particular records.
Editing is based on Hierarchy being maintained in the management system. Like a Circle head can see all the entries/reports of his division. Division Head can see records of ranges under his divisions.
User can allot the budget to  Circle , Division or Ranges under the scheme release by respective state or central governments.
Head office can allot the budget to Circles , Circle head will allot the budget to all the divisions and Division head can allot the budgets to Rangers.
Budget will be help to generate reports on the basis of Usage and returns on Investment.
GIS is tracking done using the KML. Keyhole Markup Language is an XML notation for expressing geographic annotation and visualization using GIS Software like Google Earth.
KML will be available for Download from application and it will directly open in the Google Earth.
All the images of the site can be view as Satellite Image, post 2009 approximately.
User can share the KML file using other communication medium like email.
Though ground staff is available to do the job , higher authorities needs to needs to inspect it regularly to ensure that ground staff is doing the job.
Plantation monitoring system developed by Techaroha Solutions Private Limited offers the modules to enter plantation inspection site details along with the photograph.
Plantation Inspection authority can enter the average heights of plants , approx success ratio and in details comment. Track of such inspection over the years will help authorities to improve the process and success rate.
Any management system is used by Authority to view the summary data , but data entry is done by the ground staff. This is also very true for Plantation Management System specially for Forest Department.
Ground staff for Plantation is not well qualified and indeed they need local language support.
Keeping above two points in mind Techaroha has designed the system in two languages.

English
Hindi

Many other Local languages can be added as per the requirement like , Marathi , Gujarati ,Tamil etc.
Year Wise Plantation Site, Total Area and Amount Invested.
Circle.Division/Range wise total Plantation Site , Area and Amount.
Scheme wise total Plantation Site , Area and Amount.
Plant Distribution Details as Per Circle and Division.
Plant Distribution Year Wise.
Division Wise KMML , Photo and Upload Status.
Plantation Site Inspection Report.
Plantation Monitoring System For Different Departments
Forest Department.
Environment Department.
NGO's
Companies doing planation for CSR
Organization having reward system for Plantation Management System
If you want a Planation Monitoring System for your NGO , Department or Ogrnization Please Contact Us Over Here.
Techaroha Business Analyst team will gather your requirement and will give you the all the modules that you required to Carry out Successful Planation and Make Earth a better place to live.
Let's See How Plantation Monigtroing System Works
Below are the steps to start managing your Plantation with Plantation Management System
1. Let's See How Plantation Monigtroing System Works
When you do plantation you will have to go to the area and mark it for planation. So the first thing will be to categories your region in the multi-level hierarchy and store them as master regions.
In the case of the Government Department, it is Circle, Division, Range, etc. But the case will be different for NGO's and Corporates
This will help you take out your MIS and monitor and track failed and successful Plantations.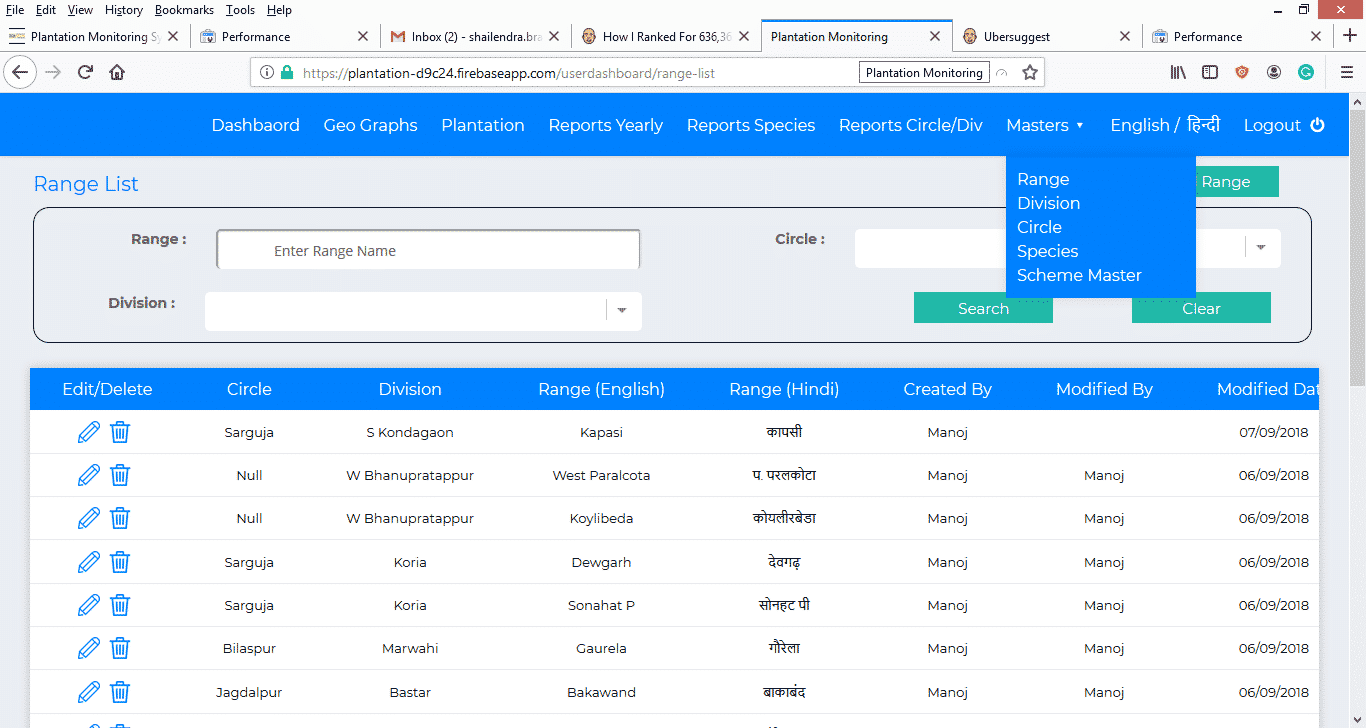 2. Create the Master of Species and Plan the Diversity you want to Plant
Well, again you need to plan what exactly you want. What is your goal?
Creating a master of Plant Species you want to plant will help you to acquire the sappligs and budget your plantation drive.
It will also help you to get the tentative success ration since a lot of plants are native to the region and don't grow easily in other places.
Bringing the plants to form another region will increase costs and reduce the success ration.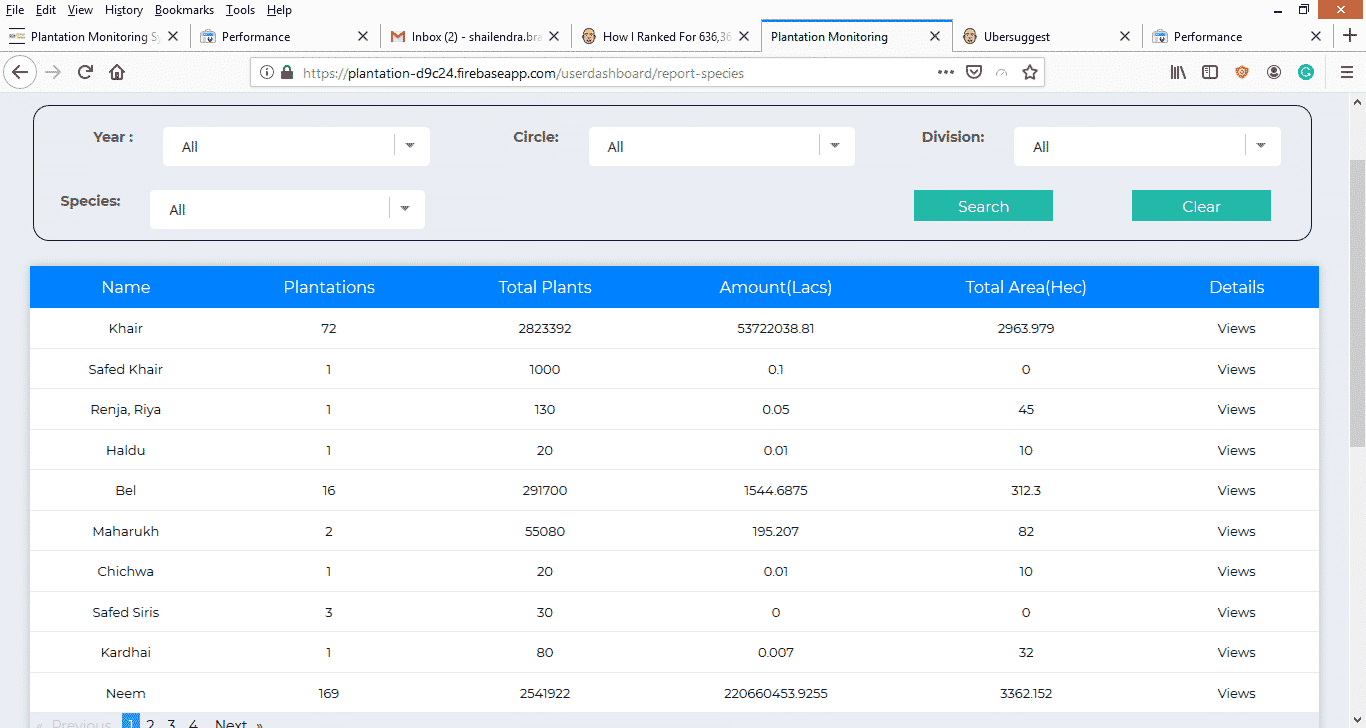 3. Define the area using a tracker device and generate KML File
Once you have decided on the species and the region, draw the map of area where you want to do the plantation.
There are many tracker devices available, if not we will supply you with that.
Tracker generates the KML file which is then required to monitor the plantation site and plantation growth using GIS Software like Google Earth of Bhuvan from ISRO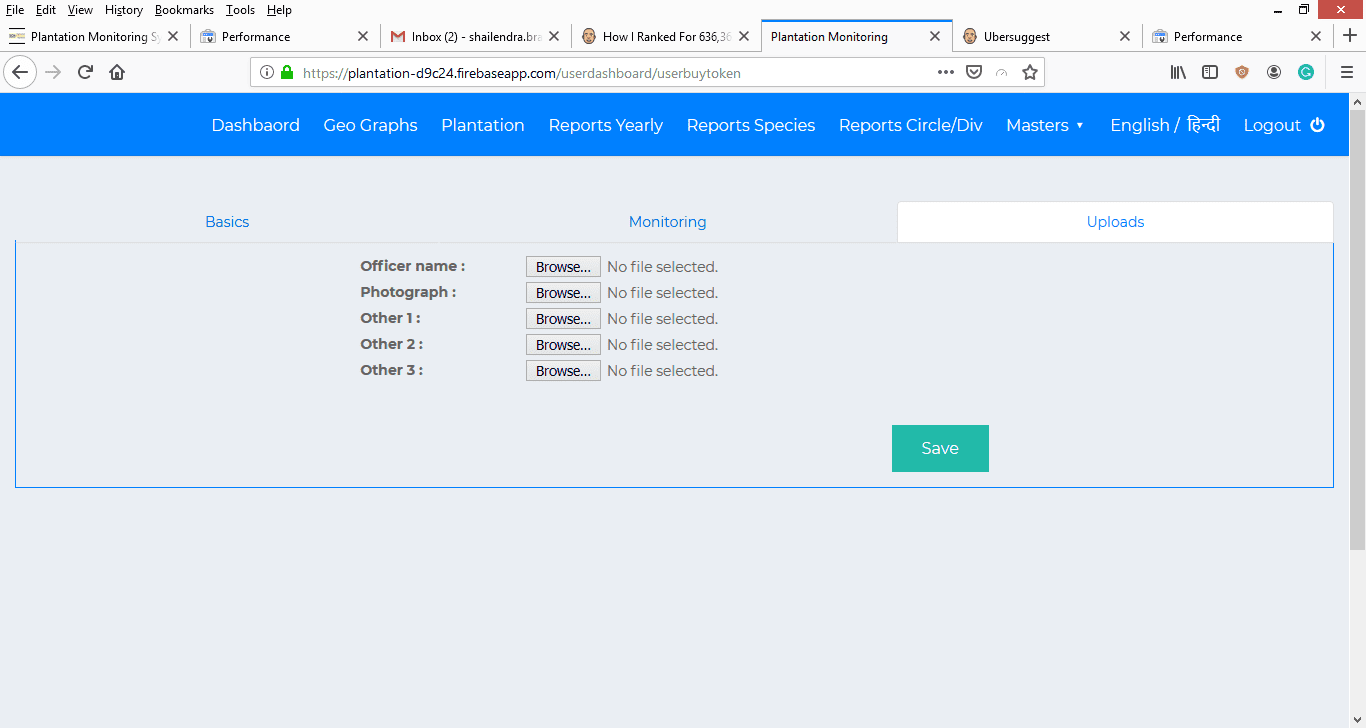 4. Finally, enter the Plantation details in the System
Well, you are ready to Go. Just enter the plantation data, like the number of trees, a number of trees for each species and if any government scheme do mention that as well. And don't forget the budget.
Planation is the patience work so save the records and wait for a while. I mean Months or Years, not days, please.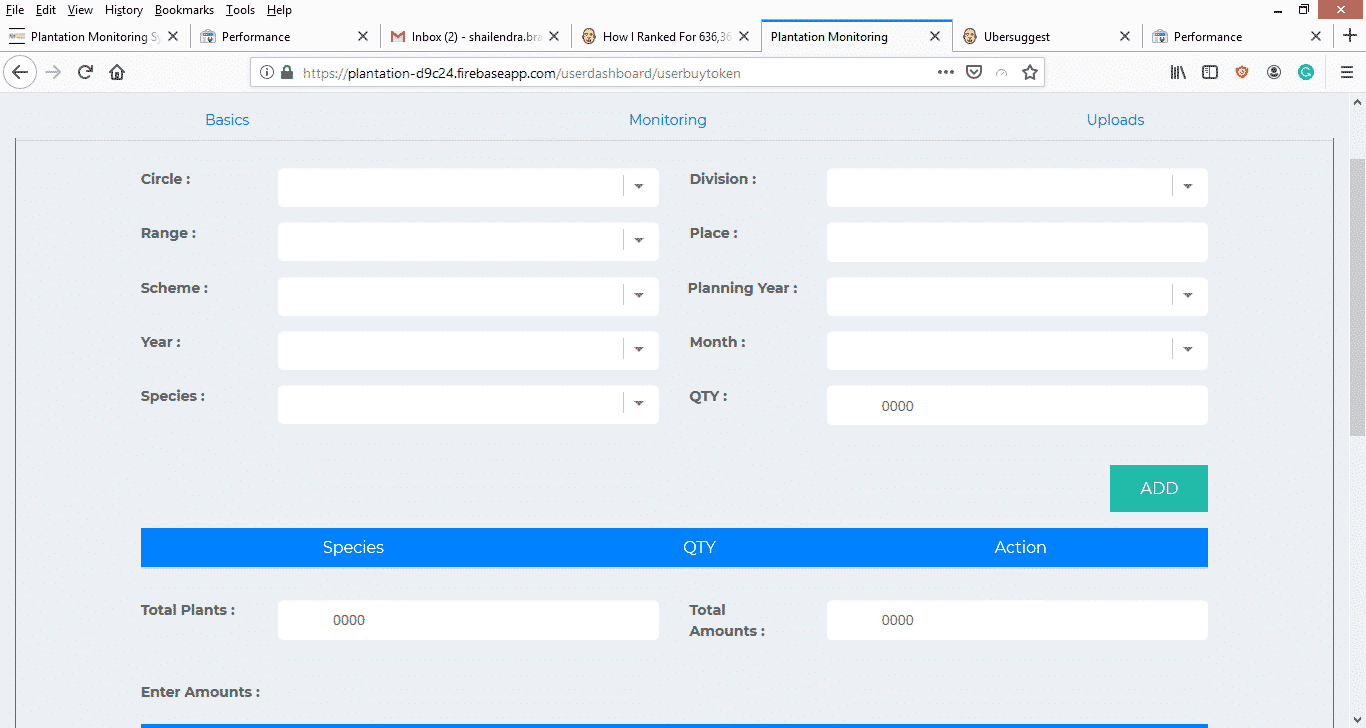 5. Open Your Dashboard and Start Monitoring every month and year
Open the dashboard. It will you all the statistics of Budget, success, and failure.
Take your decision for future plantation and don't repeat the mistake.
Keep monitoring your plantation every six months and keep a check on the success ratio. Whenever possible take the necessary steps to help dying plants.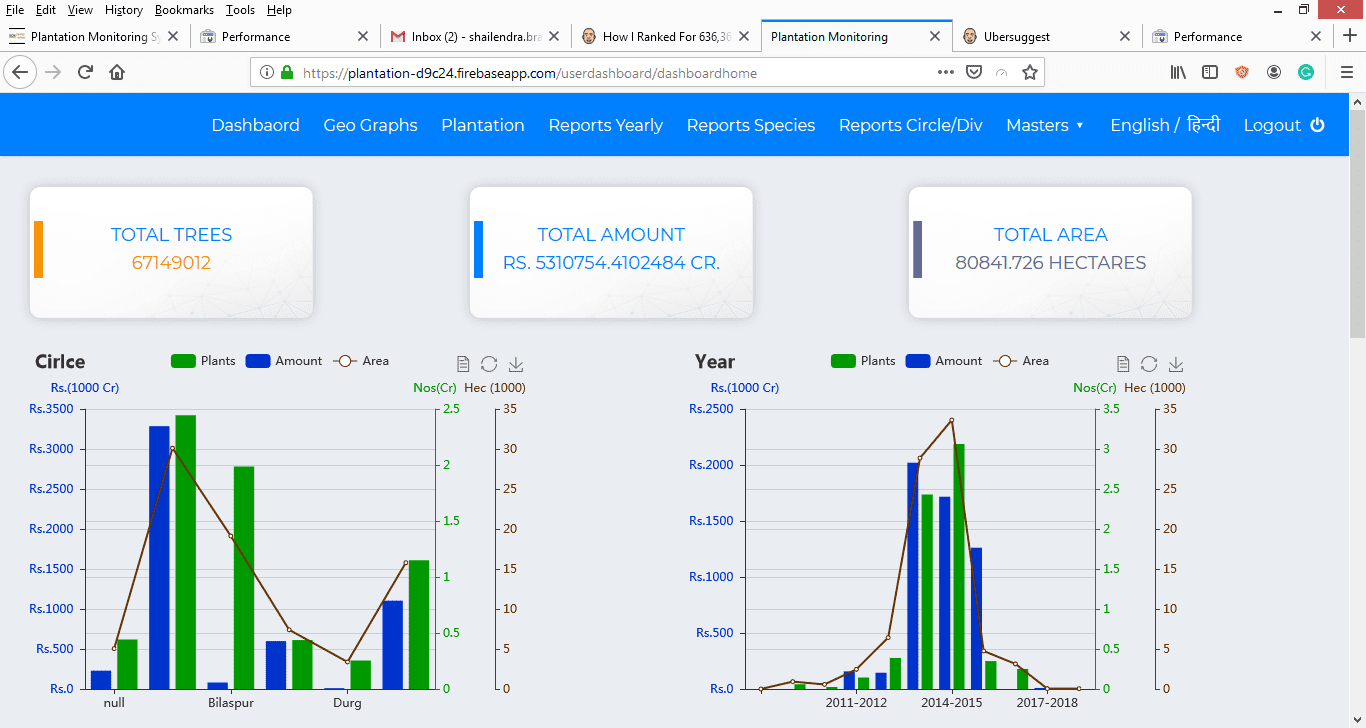 FAQ – About Plantati0n Monitoring System
What is Plantation Monitoring System
It's a Software Applications which keeps the record of Plantation and monitor its progress using GIS-Based Software like Google Earth or ISRO's Bhuvan. In many cases where close monitoring is required Drone is used.
Plantation Monitoring System has basic features to enter the plantation details and to upload the KML file which is then fed into the GIS Sofware to keep tracking. This KML file helps to monitor the Plantation in the remotest place using Satellite Imaging of GIS
Though there are many options available to generate the KML , best way would to use the dedicated devices instead of any mobile apps , since they are not very accurate
What are the important features of Plantation Monitoring System
Important features of the Plantation monitoring system are Master to create and define the region.
2. Option to Enter the Plantation Details
3. Auditing and Inspection Form
4. Link generation from KML to directly focus on GIS
5. Award allotments if any awards for Planting and Growing Trees
6. Budget and Expense Management to calculate ROI
7. MIS – The most Important part is to review, take decisions and improve the process.
Who needs Planation Moinitroing System
NGO's , Corporate for CSR (Corporate Social Responsbility) , Forest Departments needs plantaiton monitoring system to monitor the plants on large scale.
Generally planation is done in a bit remote area where cheap land is availble. To monitor the plantation from office and generate the success report organization's need Planation Monitoring System